Post by Deleted on Jul 17, 2014 17:31:40 GMT -5
Jul 17, 2014 17:31:40 GMT -5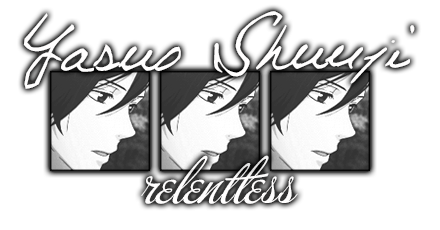 Nowadays, Yasuo hardly ever slept. He would stay up all night, staring out the window, wandering around the shadows of his property, wondering if tonight was the night that an assassin came after him. Everyone knew that the best time to kill someone was while they slept. He always tried to convince himself that he was unafraid of death, and that might have been partially true, but he still remained too afraid to sleep on most nights. As the sun rolled up over the horizon, Yasuo spent his morning attempting to make breakfast - he was positive he broke the stove in the process - and climbing all over his furniture in an attempt to dust. Sometime around ten, Yasuo passed out on the couch.

Every single time he slept, he dreamt. His dreams were always insane and bizarre, and unpleasantly vivid. He often dreamt of death or suffering in some way. Today, as he slept awkwardly on the couch, Yasuo dreamt of being attacked by some sort of monster. Yes... a monster. It was the kind of dream where you never really saw the monster. There was this constant sense of fear and urgency as he tried to run away from it. He was running through a forest... like the woods on the outskirts of his home town. He could hear the creature swoosh through the air as it leaped for him. The second it collided with his back, Yasuo awoke.

Startled, he jumped to his feet. Still in a sleepy haze, he staggered around for a second and then stumbled backwards and hit the couch. He sat there was a second, taking deep breathes, before reality poured in. "God damn it," he cursed, loudly. He felt his pockets for his phone. Realizing he didn't have it made him curse again. He proceeded to digging through the couch, exploring the kitchen, and retraced his steps until he finally found his phone atop one of the cabinets he had dusted earlier. Checking it, he realized it was almost eight o'clock. Glancing out the window to the setting sun could have told him that.

"I'm just stir crazy," he told himself. The Japanese man retreated to his bedroom to quickly dress himself in something more appropriate: a pair of worn jeans, a T-shirt, and black and white Converse. After combing his hair, he headed to the fair grounds with his cellphone in one pocket and wallet in the other. He had never been to this place before, but heard the locals talking about it all the time. It was a Wednesday evening, so the place wasn't terribly crowded, but had quite a few couples out on dates and soccer moms with their five - or whatever - kids.

None of the booths really interested him and he ignored most of the venders that tried to get his attention. There was one booth he stopped at just to glance at the odd, cylinder shaped objects. "They're kaleidoscopes," the vender, an older woman with greying blonde hair, told him quietly, as if she did not want to bother him. Out of politeness, Yasuo flashed her and smile and then glanced back down at the many different styles, designs, and colors she offered. They were absolutely useless, only valuable to collectors. Another nicknack... another thing...